There are several benefits to greening: reducing the heat island effect, enhancing air quality, water quality, or the protection of biodiversity. Our urban environment is in dire need of greening initiatives. We strongly encourage the district residents to take action and start a greening and beautifying project, and we will assist you and provide all the resources we have at our disposal.
Greening Actions
Greening Tips
For more information on gardening and greening consult the The Green Pages provided by Espace pour la vie. You will find several tips and tricks for gardening without pesticides or herbicides. You can also get a guide to ecological gardening at our office: Clean Home and Green Garden.
For successful gardening, it is essential to:
– Select appropriate plants for the environment provided by your location. Selecting the best plants will ensure a better growth and save you a lot of effort.
– Water thoroughly. Plants need a lot of water, especially when first transplanted and are still taking root. Mulch will help preserve an adequate humidity level by limiting evaporation. You can also collect rainwater in containers to reduce your potable water consumption.
– Keep an eye out for diseases, infestors or poor growing conditions. Finding these conditions early will allow you more control over time.
– Fertilize your soil with compost. Compost is a great source of nutrients for your plants. It contributes to increasing the organic structure of the soil as well as improving the humidity.
– Maximize biodiversity. Biodiversity will limit diseases, infestors and poor growing conditions by creating a healthy, balanced micro-environment.

Do vines increase the risk of wall deterioration of my building?
Vines do not damage or accelerate the deterioration of the building, on the contrary they allow for protection against bad weather, temperature variation, UV light and graffiti. Please note however if a wall is already deteriorated, vines may grow in the interstices and augment humidity. In addition, leafs may leave brown stains on aluminium wall coating.
Alternatives to green walls
Different vines have different ways to climb walls. Some use suction to grab onto walls, others produce tendrils to wrap around stems or lattices. Thus, if you would like to grow vines and avoid attachment to your wall, you can select a tendril vine and install lattices or wire stems to guide them.
Do vines require a lot of maintenance?
Vines usually require one trim per year to limit growth, if need be. Your vine may cause leaves to accumulate in you gutter, consequently requiring an annual clean up of your gutter. Lattices can be a great way to limit the growth of certain vines. In addition, the plant requires very little fertilizer, and is resistant to infestations.
How to select the most adaptive plant?
It is crucial to take into consideration the following: growth condition of the location (sun exposure, humidity, competition, etc.), plants maintenance requirements and purpose (aesthetics, to attract insects and birds, cooling, etc.)
For more information on this subject, contact us or consult the guide Climbing Plants: A Refreshing Solution from the Centre d'écologie urbaine de Montréal.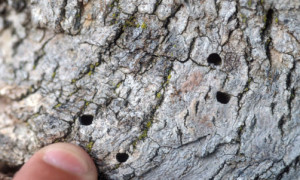 The Emerald Ash Borer, a ravaging bug that comes from Asia, has threatened ash trees all over Canada and the United States and is now damaging trees in the metropolitan region. If you have an ash tree on your property, we strongly encourage you to take action so we can stop the proliferation of this bug. To slow down the economic, ecologic and health issues created by the Emerald Ash Borer, the city of Montreal is gradually cutting down ash trees. However, to stop the Emerald Ash Borer, prevention will always be the best solution, so don't wait any longer. For more information, visit the Ville de Montréal website.