As a measure to divert waste from landfills, the Ville-Marie borough recycled paper, cardboard, glass, metal and plastics. In addition, the borough has a sorting facility that allows for all recyclables to be kept in one container.
Please note that recycling is mandatory in the borough and that it is a free service in the city, accessible to all households and commerces.
In order to facilitate this service, the borough provides free recycling bags and recycling bins (see eligibility).

Éco-quartier Peter-McGill is a distribution point for the recycling bag boxes in the borough. The boxes are free, and contain 40 bags.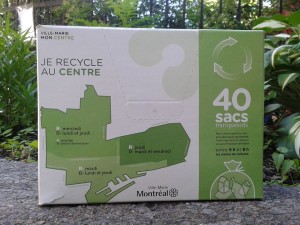 In order to be eligible, you must provide a proof of residence of the Ville-Marie borough, and be :
a resident of an apartment building of 8 or less units
a merchant or small business
a not-for-profit organisation
a community center
Other distribution points are located at :
Éco-quartier Sainte-Marie – 2151 rue Parthenais – (514) 523-9220
Éco-quartier Saint-Jacques – 2093, rue de la Visitation- (514) 522-4053
Comptoirs Accès Ville-Marie 888, bd de Maisonneuve Est, 5e étage / 275, rue Notre-Dame Est – Téléphone : 311
According to the bylaw ‹‹règlement sur le civisme, le respect et la propreté››, property managers of buildings with 9 units or more, and institutions must offer recycling service in their building.
If you need a recycling container or require advice on improving the sorting of recycling in your building come by the Éco-quartier Peter McGill for assistance. These services are free for all buildings with 9 or more units and institutions.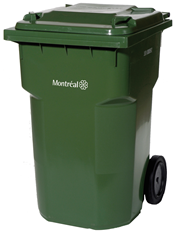 Our consultations includes :
A visit to your building to evaluate the needs of your residents as well as the container on wheel accessibility ;
Ordering the containers on wheels for recycling with the borough Ville-Marie;
Distribution of the ‹‹ recyclosacs ›› bags for all residents to help them transport recyclables
Awareness and educational material for your building