If you would like to organize an interactive workshop for your students, training for your employees, or organise a booth to bring awareness to the residents of your building, come by the Éco-quartier ! We have a series of workshops and tools to help you improve your environment.

All of the Éco-quartier staff can organize an awareness workshop or presentation in schools, institutions, and offices on a series of environmental themes :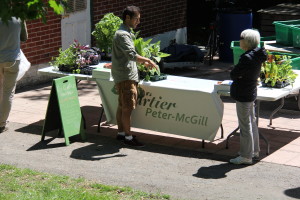 Residual wastes ( reduction, recycling, reusing, compost, or dangerous waste )
Zero waste lunches
Eco-crafts
Urban agriculture
And even more …
As a part of this service, we also organize awareness booths for :
Apartment buildings to inform residents on recycling, garbage and recycling collection schedule, and the city by-law of "civisme, le respect et la propreté" ;
Offices to target the habits of employees and help introduce new initiatives, improving your office's impact on our environment.
Awareness Tools: